Have you ever had a cutting rooted in a glass of water? You can also keep houseplants in water, without potting soil! And you get a fascinating underwater spectacle.
Life of water
We are so used to plants growing in (pot) soil, but very often they already it is sufficient to plant with just water. Hydroponics it that way of growing, and it has been used for much longer with lettuce, strawberries, and chicory. Many plants lend themselves to it, such as ivy, Anthurium (1) Philodendron (2) Epipremnum (3) Scindapsus pictus, Tradescantia (4) begonias, ferns, the grass lily (Chlorophytum) (5) umbrella plant (Cyperus alternifolius). And also herbs, such as mint and sage (6) do fine without soil and can grow quietly for months with their roots in the water.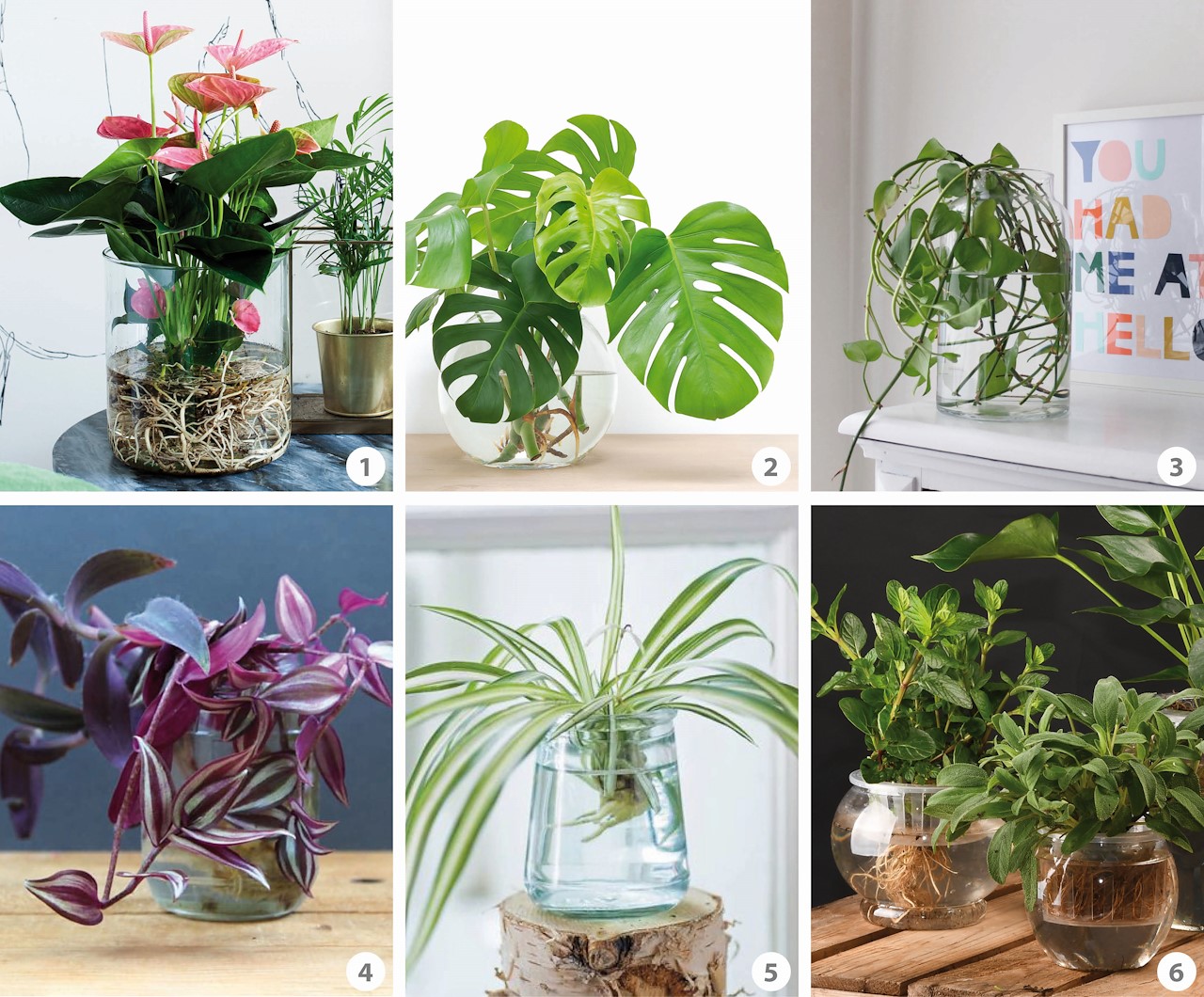 How to transfer the plant from the soil to water with the roots exposed?
Remove your houseplant from the pot, shake off as much soil as possible (which is best when the soil is dry), and rinse the roots completely clean. Hang your plant in a glass jar or a translucent vase and gently fill with water until the roots are just below.
Use spring water (bottled water), which contains a lot of minerals, and do not leave such ugly lime edges on your vase as classic tap water. Make sure that there are no leaves in the water, from which bacteria develop that are harmful to your plant. Occasionally add a pinch of finely ground activated charcoal, which keeps the water pure and avoids odors.
How to breed plants in the water?
No place for lots of houseplants or big bucket in your house or flat, or on your room? For a cutting garden, you really need very little space. Moreover, having a cutting rooted in water is one of the easiest ways to propagate plants, and immediately the cheapest water garden you can imagine. And it's still great decorative too!
You can use all kinds of smaller glasses, jam jars, or jars for it, and place your plants here and there playfully, from a tree shell over herbs to an avocado seed. A cutting of a pancake plant can also be easily developed in water.
Pour a dash of liquid plant food for houseplants into the water every two weeks or a piece of translucent lemonade. The sugars are food for the plants and the acid inhibits the growth of bacteria. Change the water in small vases every 2 weeks.
Aquatic plants in the house
Aquatic plants usually grow in the pond, but did you know that you can also keep them in the house? Most pond plants live underwater. In a pond, you can't see much of it, but in a vase, in your house, you can admire them to the fullest. So get that aquarium out of the attic, empty the terrarium or find a big jar or large translucent vase.
For a full-fledged water garden, you need a jar of 10 to 15 gallons. In a large water garden about 30 inches high and wide, to fit three underwater plants. You can also keep plants in a dry bottle.
Or why not put a floating plant on your coffee table? Fill a low, wide jar or pot with marsh plants or floating plants, which are very nice to observe from above. With a shallow bowl of duck rose, you'll have one green carpet in no time. Beautiful floating plants are frog bite (Hydrocharis morsus-ranae), raft fern (Salvinia natans), and water lettuce (Pistia stratiotes).
A regular water lily is unfortunately too big for your indoor water garden, but a mini water lily or a dwarf lotus is possible. Lotus flowers need sun, and the year around water above 68°F, put them by the window. They do even better inside than outside in a pond, in our climate. When they bloom they smell delicious.